The StoryToys Jigsaw Puzzle Collection is a fun collection of jigsaws from our classic collection as well as many new ones for children of all ages. Each jigsaw is wonderfully illustrated with beautiful, colourful imagery and comes with a choice of four levels of difficulty. Children can piece together images to create scenes from much-loved classics such as The Jungle Book, Beauty and the Beast, Grimm's Puss in Boots and many more, or choose from some of StoryToys other most popular titles such as Goodnight Mo, Animal Band and Dino Dog.
This premium version comes with all Jigsaws fully unlocked and ready to play from the start
FEATURES:
- 10 beautifully illustrated jigsaw puzzle packs each containing 8 images
- Each of the 8 images has 4 levels of difficulty
- Choose from Easy (9 pieces), Medium (20 pieces), Hard (36 pieces) and Champion (56 pieces)
- A total of 320 puzzles
- Win special trophies for each jigsaw completed
- Four different types of trophy to win in each pack
- Available in English, French, Italian, German, Spanish, Danish, Polish, Russian, Brazilian Portuguese, Chinese, Korean and Japanese."
PUZZLES:
- Animal Band
- Dino Dog - A Digging Adventure with Dinosaurs
- Beauty and the Beast
- Goodnight Mo and Wake Up Mo!
- The Pirate Princess
- The Jungle Book
- Grimm's Puss in Boots
- Farm 123
- Haunted House
Some Reviews of StoryToys' Previous titles:
"StoryToys has near-brilliantly rethought children's books. This application evolves the very concept of what a story can be." ~ Jeremy Horowitz, iLounge
"Every page keeps the reader wanting more. The interactivity of the pop-up pages is superb."
~ Leanne McGinty, Ahgoo Review
"Now THIS is what I call an app!! My jaw dropped when I started reading this interactive book." ~ Sylvia Duckworth, French Apps for kids
"Stunning. If I had to sum up this app in one word it would absolutely be stunning."
~ Danielle Smith, TheresABook.com
StoryToys awards:
Two iLounge awards for best kids' app
Winner of two Mom's Choice gold and silver awards
Winner of the Editor's Choice Award for Excellence in Design (Children's technology review)
Shortlist nominations for the FutureBook Digital Innovation Award
Best Kids' App Ever winner
Longlisted for the DBW Publishing innovation award (children's book category)
Children's Technology Review Editor's Choice Award.
________________________
Don't forget to share your review below, we'd love to hear what you think!
Stay in touch to hear about new releases and promotions:
Visit us: storytoys.com
Email us: For any technical issues please email us at support@storytoys.com
Like us on Facebook: Facebook.com / StoryToys
Follow us on Twitter: @StoryToys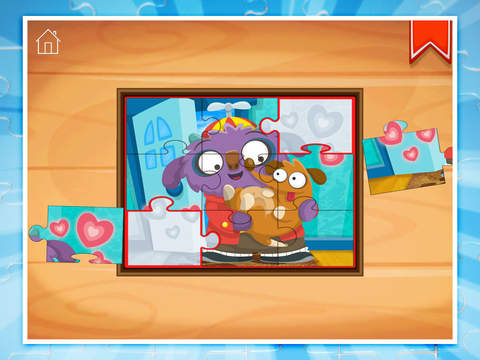 線上24小時玩The StoryToys Jigsaw Puzzle Collection APP免費
下載遊戲APP-在線上免費玩The StoryToys Jigsaw Puzzle Collection APP