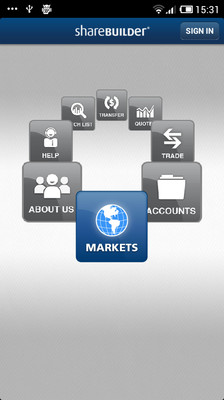 POWERFUL INVESTING. REFRESHINGLY SIMPLE.
Investing in your future shouldn't be daunting. With straightforward research tools, a simple comparison engine and portfolio analysis features, ShareBuilder gives you all the power, minus the clutter. And now you can fit your investing neatly into commuting time, wait time or downtime with ShareBuilder Mobile.
TRADE & TRANSFER
Trade stocks and ETFs, place options orders and instantly transfer money to/from your Capital One 360 bank account.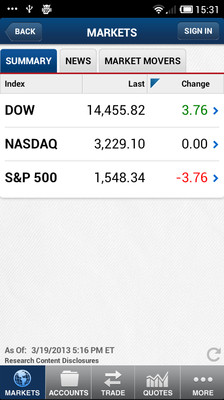 STAY IN THE KNOW
Get detailed stock quotes, manage your watch lists and read the latest market news.
MANAGE YOUR PORTFOLIO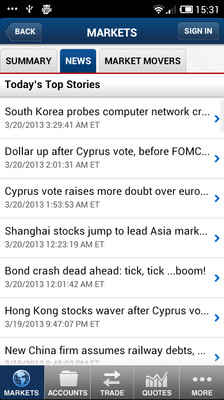 View positions & trade status, track gains & losses and check balances.
SAFE & SECURE
Have confidence you're protected with the latest state-of-the-art online security.
Don't have a ShareBuilder account?
No problem. You can still do a lot: get instant quotes, consult charts and read news. Want to trade and transfer money, too? Just open a ShareBuilder Account. It's free to get started, there's no account minimum and it takes just minutes.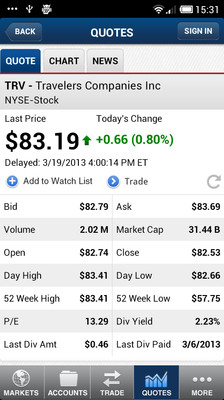 線上24小時玩ShareBuilder APP免費
下載財經APP-在線上免費玩ShareBuilder APP
ShareBuilder APP LOGO

ShareBuilder APP QRCode 立刻掃描下載
APP分佈國家
APP系統
線上APP版本
費用歷程
APP評價
上架時間
更新時間
中國 China
Android
Google Play
3.3.0
下載 App
免費

2013-05-11
2015-01-14