Featured in Inc. (5 Best iPhone Apps of 2013), Wall Street Journal, TIME, ABC, Forbes and PC Mag.
Cloze is the first app to organize your social feeds and mail by who matters to you - not by who talked last. It is the automatic way to keep track of your contacts. And it's free.
Cloze automatically learns who is important to you – it organizes your feeds by who matters most so you can step away and return to a friendlier place with the important stuff right up front, separate from the noise and clutter of everything else.
Cloze brings together all of your relationships from social and email into a people-centered view. It keeps track of every contact, email, tweet, post, and job change so you never miss a reason to connect and build stronger relationships.
FEATURES
Smart Inbox and Contact Manager:
- Automatic noise filtering - just the people you want to hear from
- One place to respond, like, comment, retweet and share
- Keeps your list of key people always up-to-date without any work
- Single swipe gestures for fast triage and sharing
- Surfaces messages about your key people that you wouldn't normally see
- Single view of your feed with simplified navigation
- Always know exactly what what's new and what's not
- Reorder people with a simple drag gesture
- Bookmark any message so you don't forget to follow-up later
- Organize people you want to track with custom lists
Contact Management:
- Store all your contacts from email and social in one place
- Store notes about each of your contacts
- Automatically keep contacts up-to-date
New! Search for contacts the way you think ("VPs in the Big Apple", "marketers at IBM")
New! Enriches contacts from email signatures
New! Sort contacts by when you first met, when you last talked, and distance from you
New! Swipe to call, text or email from contact lists
New! Manually add, delete, or merge contacts
Social Media:
- Connect Facebook, Twitter and LinkedIn
- Schedule shares and retweets to be posted later
- Schedule with a custom time or let Cloze pick an optimal time
- Mute people for 1 day, 1 week, or longer
- Reorder which people you see first with a simple drag gesture
- Life Event tracking
- Social Mention tracking
- Import Twitter and Facebook lists
- Privately share social media you discover with your team
Email:
- Connect as many email accounts as you'd like
- Support for Gmail, iCloud, Microsoft Exchange, IMAP, Yahoo!, AOL and IMAP
- Get notified when a recipient opens your email to them
- Get notified when a recipient clicks on a link in your email to them
New! Archive all your junk/bulk mail in a single swipe
New! Custom lists to organize your email contacts
New! Improved email composer and contact search
New! Delete (move to trash) for email is here
New! Shake to undo
New! Multi-task while writing new mails (iPad)
SOCIAL NETWORKS & EMAIL SUPPORTED
Twitter
Facebook
LinkedIn
Google Gmail and Contacts
Microsoft Exchange, Outlook, and OWA
Yahoo! Mail, iCloud, AOL, IMAP
PRIVACY & SECURITY PLEDGE
- We won't spam your email or social networks.
- We won't share or sell your information. It's for your eyes only.
- You always control when Cloze posts on your behalf.
- We'll be open and transparent as to how we will use your information within Cloze.
Cloze is Secure
Cloze provides multiple layers of security around your information, from access protected data centers, through network and application level security. We use oAuth when we can. Sensitive information, such as your email, messages and passwords, is always encrypted. You can enable 2-step authentication to further protect your account.
Cloze is Private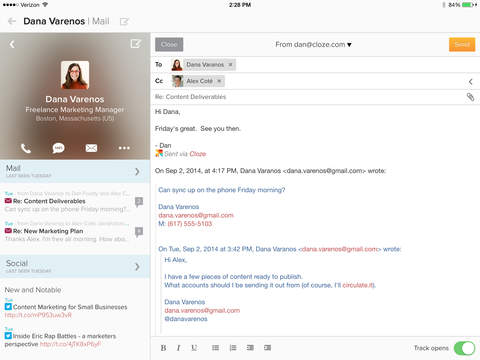 You are the only one who can see your information within Cloze. Our employees can't see it - it's encrypted even to us. We will never share your email or social information with anyone. You can cancel Cloze at any time and we'll permanently delete all of your information.
The Cloze app and service is free. Sign up for your free account within the app.
線上24小時玩Cloze - Inbox and Contact Manager for Twitter, Facebook, LinkedIn, and Email APP免費
下載生產應用APP-在線上免費玩Cloze - Inbox and Contact Manager for Twitter, Facebook, LinkedIn, and Email APP